Eco Friendly Suppliers.....

New Forest Log Cabins are proud to have Aru Grupp as their premier suppliers of windows and door products for over 10 years and now with expanded production we will work with Aru to develop our next generation of Solid Log and Timber Frame buildings to meet the needs of our customers for the highest quality wooden products available in the UK. www.arugrupp.ee
---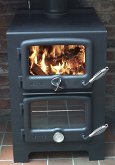 The perfect cabin companion, the Nectre Baker's Oven.
The Baker's Oven is a compact wood stove with an integrated oven, enabling it to warm and cook/bake/roast efficiently.
Successfully installed in cabins as far north as 300km from the Arctic circle in Norway. Delightful and satisfying to cook with. Office: 0845 519 5278 -
www.naturalrenewables.co.uk
---

Urban Lifetile® takes the evolution of the green roof one step further, introducing a simpler, lighter, more economic version, by employing the best green roof technology available.
VISIT: www.urbanlifetile.com
CALL: 0800 520 0582
E-MAIL: info@urbanlifetile.com
---

Self build land for sale, renovations & conversions PlotSearch is the UK's premier land and property finding resource. With thousands opportunities to choose from it won't take you long to find your perfect plot of land or project.!
---

Green Solution When people breathe, perspire, cook, bathe, shower and steam iron the amount of moisture in a house increases. This is particularly true in winter when windows and doors are kept closed. Heating systems waste significant amounts of energy trying to warm moisture laden air in your house.
---
Energy Test Ltd
10 Oakbrook Road
Sheffield
S11 7EA T: 0114 2302812
www.energy-test.co.uk
We offer a one-stop-shop for all your Part L requirements. Energy Test specialise in all aspects of Part L compliance including SAP and SBEM calculations, Energy Performance Certificates and air leakage testing. We pride ourselves on offering a personal service - talk direct to one of our expert energy assessors and let them guide you smoothly through Part L compliance from design to completion.
---
We can also offer a full range of partner services including Structural Engineers, Mechanical and Electrical engineers, Health and Safety coordinators, Landscape Architects, Planning consultants, Quantity Surveyors, Drainage consultants.
---
Underfloor Heating Now Ltd
12 Telford Road
Ferndown Industrial Estate
Dorset, BH21 7QY
Tel: (01202) 894976 Fax:(01202) 897131
Email:
---
Plainview Planning specialise in securing valuable planning permissions or residential and commercial sites throughout the UK. From large residential developments involving hundreds of homes to home extensions and changes of use - at Plainview we strive to prepare dynamic and persuasive planning applications for every project, whatever the scale.
---
Air Leakage Testing Ltd are BINDT and UKAS registered and accredited testers of all types of building. We can test both Domestic and Commercial properties for air leakage, air tightness and air permeability. We offer total UK coverage for domestic and commercial buildings from 2 convenient locations. This includes the whole of Scotland from our new Birmingham Office. For more information.................
---
Need a Mortgage for your Environmentally Friendly Log Building.

---
THE Directory
www.garden-buildings.com
If you cannot find a garden building to suit your needs on this website, then you may find the following general directory useful. http://www.garden-buildings.com/">Garden Sheds Directory