One Bed Mobile Home Introduction
Living in a log cabin is a comfortable and economical experience. Log cabins are very warm, yet light and airy inside, ideal for work, pleasure or both. Heating requirements are minimal, benefiting from the natural insulating properties of wood, maintenance is also minimal requiring only external treatments periodically. A typical log cabin, properly maintained will last more than one lifetime.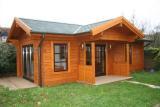 Brook Lodge is a 1 double bed with en-suite shower room which has all the modern Energy Efficientcy of a log building constructed using a solid log exterior with insulated internal walls using a mixture of traditional Log Finish and plaster board in the Bathroom and Bedroom. If you need a 1 Bed quality built Log Cabin for Friends or Visiting Relatives, Brook Lodge will be there to greet them...
Log Cabins of this size are constructed to meet the requirements for a temporary log structure or mobile Home conforming to the Caravan Act.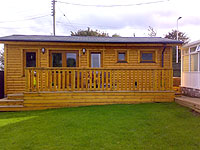 It's not always about size. Sometimes it's about what works for you and the Pembroke Lodge certainly works for the one or two person family or holiday lodge. With one bedroom and open plan lounge/dining room and walk in shower room, we managed to fit everything in, including the kitchen sink. Konecta Modular design with round profile log exterior and plaster board interior.

Our mobile homes come on a special sub frame that allows the structure to be lifted on to the lorry and therefore become fully removable. As they are removable buildings they can be classified as mobile homes under all the Caravan Acts and are zero rated for VAT
1 Bed Static or Transportable Log Chalet 6.1mtr x 4.8mtr 92mm.

The Pioneer 30 comes from the very successful design range and lends itself very well as a 1 Bed mobile home or any other use where 1 bedroom, shower room and bathroom W/C are required. This model is flexible enough that we could juggle the interior design to suit your needs and your budget.
1 Bed Static or Transportable Log Chalet 7.4mtr x 4.2mtr, 1.5mtr overhang and verandah 70mm.