The Pre-School Log Cabin
The modern Nursery can have teaching areas, staff room, wet and dry places, kitchen, WC's, utility facilities and offices, along with adequate storage space. With our latest design tools we can create your very own bespoke, custom designed modular nursery building.
With our extensive experience in providing ideal environments for pre-school children to flourish, you can rest assured that we also incorporate all of the necessary safety and security features for carefree learning and enjoyment.
If you are planning to build a new nursery, we can help you design and then go on to construct a superb new building to your exact specifications, meeting all the regulations from OFSTED and Building Control.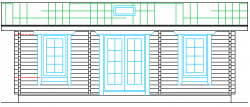 The time your child spends in pre-school should be some of the happiest days of their lives and spending in one of our Log Cabins in a safe well planned Pre-School Nursery Building that will help you and your child through the challenging first years of education.
For a complete design and build service please e-mail our office for an Information Pack or call us for a chat.