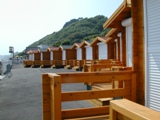 With 5 miles of beach front and hundreds of Beach Huts ranging from the traditional day hut to the super chalet that we see advertised for more than the cost of a house. Here at New Forest Log Cabins we try to mix in with the old but provide the facilities necessary to keep the Beach Huts looking great with protection from the elements and security.
With the addition of the roller shutters which take seconds to open, the occupants can be assured that their contents are safe and that no condensation has got into the furniture that's been sitting there since last summer.
Our design team can either follow your architects drawing and produce a price for multiple Log Beach Huts, or we can take a brief and prepare plans for you.