Log Cabin Office
Make some more time for you with a home office.
We are particularly guilty in this country of spending long hours in the office and not enough time at home. New Forest Log Cabins can offer the perfect solution to getting your work/life balance right by bringing your office to your home, yet still having it separate from your living space. You can either choose from one of our home office building designs or alternatively we will create a bespoke Log Cabin Office to suit your exact needs.
It is sometime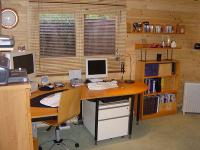 s difficult to discipline yourself to concentrate on work at home, having a dedicated office space in the garden will give you the space needed to focus. A log cabin, such a natural building, will offer a calm environment in which to be creative, inspirational and above all concentrate.
Our Log offices can all come with full insulation to ensure that you are working in complete comfort no matter what the weather outside.
Let us help you choose the right office for you and bring the balance and control back into your life. Contact New Forest Log Cabins to discuss your requirements.