Poolside Log Cabins
Welcome to the Internet's best source for information about log cabins and log chalet products from New Forest Log Cabins Ltd.
Our goal is provide you, the log home enthusiast, and potential log cabin buyer the information and resources you require to make an informed and educated decision when it comes to choosing a supplier for your log building.
We specialise in custom design and construction that adds a graceful, powerful look and feel to log cabins, chalets, and lodges. With a Redwood Pine log Cabin from New Forest Log , you'll experience a custom-built functional cabin that has the durability and elegance built in to every design we produce.
Poolside Log Cabin Listing
4 Poolside Log Cabins

Poolside Cabins can be equipped with changing facilities, shower, WC, hot tub or sauna. The Gartenschloss is ideal for a poolside cabin. 4mtr x 2.9 mtr with 1.6mtr overhang and verandah - 70 or 88mm Log.
We designed this cabin over 5 years ago and whilst other companies have tried to copy us, they have never been able to match the great look and feel that we take time to build in to each and every one of our log buildings..!

Based on the Ryan style og log cabin, the Summerhayes could very easily incorporate a shower rooms, saunas, bar area, WC, pump rooms and much more.
6.7mtr x 4.4mtr solid 70mm or 88mm logs.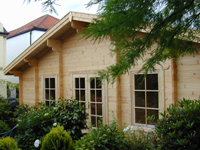 The Ryan can be sited next to your Pool as a changing room, bar, snooker room or gymnasium, or over the Pool and is probably our most versatile Cabin ever. We originally designed this as a 8 x 4 mtr Gymnasium, hence the use of double opening doors and ¾ length windows to the front, windows to both sides and a loo or shower in the corner.We can make this in any size you want at a price that will leave you feeling that you've got a bargain and probably one of the best cabins you'll ever see at the end of your garden..!8mtr x 4mtr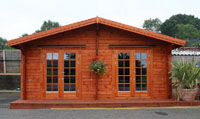 It was only after building this log cabin that we realised how well it would lend itself to be a Poolside Cabin. Split into two rooms with one side being a changing room and the other a workout studio. The design possibilities are endless and with our bespoke design service you could have the internal layout to suit your need at no extra cost. 6 x 4mtr, or design your own poolside cabin.