Timber Pavilions
A modern log building with a traditional feel.
Our timber sporting pavilions provide the ideal solution to your needs. With an Eco friendly and cost effective choice that gives you all of the requirements of modern day living with a lovely, traditional feel.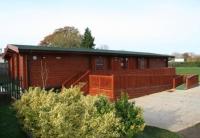 When considering the Carbon Footprint of your building, the choice of wood compared to a "traditional build" structure is both environmentally friendly and energy efficient. Wood is a natural material and is therefore close to people's hearts and is the first choice for all seasons. Its insulation qualities ensure that heating and air conditioning costs are kept to a minimum. Using our vast experience in log construction we can see that it lends itself very well to the traditional aspects of a sports pavilion with all the modern facilities and built to meet the requirements of Building Regulations. Timber pavilions or sports facilities can be made to any size and incorporate all that you would expect in a modern brick building, but at a fraction of the cost and with a look and feel that's in keeping with tradition.
Please browse out timber pavilion designs for inspiration and contact us to discuss your particular requirements.