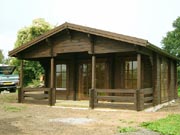 Relax in your own sauna, dine alfresco and put a favourite DVD on your extremely COOL home cinema system and chill.
Crank up the volume, splash in the hot tub and open another bottle of champagne and that just Friday evening, and then what will you use your log cabin for the rest of the week. Have fun and be happy..???
6mtr x 5mtr - 70mm Square Log as shown.