Holiday Lodges & Cabins
The pricing for Holiday Lodges varies largely on a number of units being built and other factors such as the log size, full insulation, how many windows and doors and for the different types of construction such as solid log or Log Panel Homes. Our Competition often quote just the "Supply Only" price, but we offer a complete supply and built and for multiple builds. Please note that the guide prices shown above are per square metre and include the "Supply and Build" This is very important when comparing our costings with other companies who only give you half the story.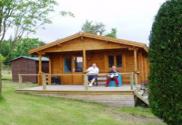 The Cordoba was one of our very early Log Chalet designs and ideally suited to the holiday accommodation market or for build as a temporary mobile lodge. 2 Bed Log Chalet 10.45mtr x 6.50mtr including overhang and verandah with fully insulated 70mm solid logs.