NEW FOREST LOG CABINS is undertaking one of the largest log cabin builds in Dorset at Merley House Holiday Park.
This complex will include an indoor swimming pool, sauna area and offices/reception area. The build was started in the late autumn of 2013 and is scheduled to be completed by the end of February 2014, with plans for a special event for the Grand Opening.
Two artic lorries have already been unloaded with all the components needed to assemble such a large structure, both of which came all the way from Aru Grupp in Estonia. A team from Estonia have been flown over to put the building together literally log by log, the building came with each piece numbered so the workers know in which order to the place the individual logs. Their work ethic has impressed Phil Hammick, Director of Merley House Holiday Park "The lads over from Estonia have worked like Trojans, even when it's been wet to keep on top of the deliveries of timber that have arrived."
The logs themselves come pre-treated and waterproof. The building once erected, can be painted in a colour of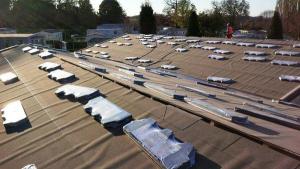 the client's choice, in the case of Merley House they have chosen to keep a natural wood colour. All the logs work on an interlocking system, so the structure is extremely strong and consequently is very easy and timely to erect. The Company is registered with the FSC (Forest Stewardship Council), which is part of the Rainforest Alliance.
This Alliance ensures strict guidelines are adhered to with regards to forest management, thus ensuring forest sustainability, which is extremely important to New Forest Log Cabins.
Efficiency and professionalism is something that New Forest Log Cabins prides itself on, aiming to please all our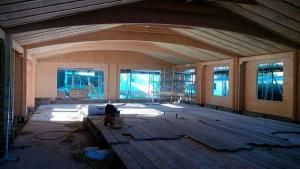 clients. "The project is well underway and ahead of schedule which we at Merley Park are delighted with." Commented Phil Hammick, "The home owners who are here on the Park cannot believe how quickly it has gone up. In just two weeks the reception first stage roof was on so it was dry indoors."
To date the Merley Pool House Project is on track for its completion deadline, the external shell of the building is nearly completed, and the plush internal fitting is underway.

NEW FOREST LOG CABINS has been established since 2002 and is renowned for its bespoke and high quality builds. The company can offer a large variety of buildings which can all be designed to the client's specification. The company has assembled Chalets, School Nurseries, Pool Houses, Log Cafes and Granny Annexes, as well as Mobile Log Homes and other forms of log building. We are based in Wimborne, Dorset and are able to offer free, no obligation site visits within a 15 mile radius. We offer a complete service ensuring your project goes smoothly from start to finish. Our service includes drawings for planning, help with your planning requirements and if required, we will fit out the interior of the structure to your individual specifications.